The East Asian Story Finder: A Guide to 468 Tales from China, Japan and Korea, Listing Subjects and Sources          2009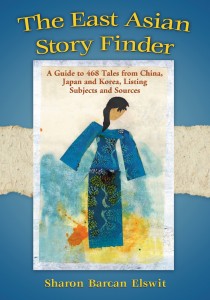 The East Asian Story Finder is a bibliographic reference book for educators, librarians, folklorists, speech writers, and storytellers who want to find just the right story to share in English from Chinese, Japanese, and Korean cultures.  And, as I have discovered, it is also a resource for people who want to become familiar with a wider range of folktales from this part of the globe than the usual offerings.   Here they can read through summaries of stories arranged cross-culturally into broad themes, check a Subject Index when looking for a more specific topic, or consult the Title Index to find a particular story they know by name.  Stories from specific ethnicities in China are identified in the subject index under a group's name.   There is also an appendix where stories are listed by country.
Below each story you will find many of the places its other versions may be found.  It was startling to me how many of the same stories had been retold, each with its own flavor, in one of the other countries, and sometimes, all three.  A wolf in a story by the Han Chinese people might be a tiger when told by Koreans or Tibetan People.  Culturally, they were different, and yet, the stories soon began to separate themselves into themes common to the region.  These formed the chapter headings, which you can see below.
Here's the Table of Contents from The East Asian Story Finder:
Acknowledgments vi
Preface 1
I. Kindness Rewarded and Lessons Learned 11
II. Cherishing the Earth and All Living Things 28
III. Of Wonders, Magical Objects, and Enchantment 45
IV. Supernatural Loves 73
V. Devotion 91
VI. Strange Events and Ghostly Encounters 108
VII. The Power of Dreams 126
VIII. Supernatural Creatures: Tangling with Tengu, Tokkaebi, Yamaubas, Kappa, Ogres 133
IX. The Heroes: There Is No Danger Which These Women and Men Will Not Brave for the Good of All 150
X. Propitious Births and Extraordinary Children 162
XI. Animal Fables 172
XII. Tricksters and Fools 185
XIII. The Way Things Are 204
XIV. The Problem Solvers 225
Appendix A: Chinese, Japanese, Korean, and Taiwanese Stories Listed by Country 237
Appendix B: Glossary 248
Bibliography 251
Story Title Index 261
Subject Index 271
Although some of the stories referenced in this book have only been available in English for 125 years, there is so much more to choose from than The Five Chinese Brothers, The Bamboo Princess, and The Green Frog, which you hear over and over.   I started out captivated by the gracefulness of the haunting supernatural tales I'd shared with children and, along the way, fell in awe of stories which captured the courage of heroes and heroines who lay down their lives to bring water to a community or rescue a husband or wife.  And then there were the delightful stories of human cleverness and those shivery with revenge.
Reviews:    "Solid addition to folklore collections…useful…an invaluable resource." —School Library Journal
"Finding just the right story to illustrate a concept for a specific group is an art. It can be difficult, but The East Asian Story Finder will help…a very useful source for teachers, librarians, parents, storytellers, and clergy." —American Reference Books Annual
Finding The East Asian Story Finder:                                                                      From McFarland & Company, Publishers: http://www.mcfarlandpub.com/book-2.php?id=978-0-7864-3945-4
At Barnes & Noble: http://www.barnesandnoble.com/w/the-east-asian-story-finder-sharon-barcan-elswit/1111758183?ean=9780786439454
On  Amazon: http://www.amazon.com/East-Asian-Story-Finder-Subjects/dp/0786439459/ref=sr_1_1?s=books&ie=UTF8&qid=1344511334&sr=1-1&keywords=east+asian+story+finder