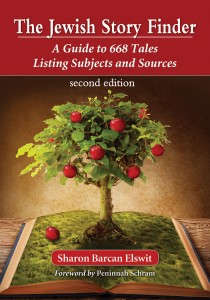 NEW!  The Jewish Story Finder: A Guide to 668 Tales Listing Subjects and Sources      2012 
Why a 2nd Edition?                                       
More tales:  The 1st edition of The Jewish Story Finder pointed the way to 363 stories which teachers, storytellers, librarians, clergy, speech writers, and families could use to find just the right tale to fit an occasion, from giving a wedding toast to helping a class deal with bullying.  This new edition almost doubles that, referencing over 665 tales. It encompasses stories and variants from the seventy plus picture books and collections of Jewish folktales which have been published since 2005.  It includes stories from out of print books, now easily accessible through online book dealers.  It points to web locations where whole stories themselves may be found. The bibliography itself has doubled to 400 sources.
Expanded themes:  At the request of librarians, this new Jewish Story Finder expands themes of justice, tolerance, and respect for life.  You will now find 60 stories to choose from under community, 36 on coexistence, 12 on cause and effect, 99 on change in attitude,  and more than 100 on mitzvahs or good deeds.  Entries for identity, education, and ecology – all hot subjects now – have almost doubled.
Greater global reach: The second edition also offers almost four times as many stories from Turkey and Libya. There are 45 stories from Morocco and 20 from Tunisia.  It  just about doubles the number of Hasidic tales. The number of stories in the Rabbis: Wit and Wisdom chapter has tripled.   Greatly expanded are the number of entries in the chapters on Festivals and Holidays, Wonder Weavers, and Human Stories.  A new subheading was added to include Journeys to Holy Places in later times, like the fabled city of Luz where people live forever.
What's here?  Referenced stories include oral and written tales which exist in the Jewish cultural tradition and have been recorded in books and on CDs, videos, and websites in English.  Stop by to read Peninnah Schram's gracious foreword on the nature of Jewish folktales and the oral tradition.
Some of these stories have been passed down through the generations in countries around the globe; some were newly created last year.  Some have been adapted from universal tales, reflecting the places Jews have lived, in Chile, in Morocco, in China, in Eastern Europe, and in the United States. They include heroes and heroines, supernatural creatures, tricksters, and animal fables – all to address very human values, like justice and building community, mitzvot or good deeds and celebrating holidays.
The Finder contains subject and title indexes to help people reach the story they need.  A summary appears for each one of the 668 stories included in the book. Under the highlighted story there is also a list of many other places where variants of that chosen tale appear, for you may have access to one book, but not another, and still want to read the story or share it with others.
This new cover image, designed by McFarland & Company was inspired by Peninnah Schram's story, "The Apple Tree's Discovery," a story which is now being used to teach self-esteem in Israeli high schools.
This table of contents displays the range of themes inside:            Acknowledgments vi
Foreword (Peninnah Schram) 1                     
 Preface 3
I. God, Faith, and Prayer 9
II. The Torah, the Talmud and Their Study 31
III. Biblical Characters and Events 45
IV. Quests for Sacred Objects and Holy Encounters in Later Times 77
V. Rabbis: Wit and Wisdom 102
VI. Wonder Weavers: Tales of Magic 131
VII. Angels, Demons, Spirits, Gilguls, Dybbuks, and Golems: The Supernatural 173
VIII. Talking Animal Tales and Fables 209
IX. Tricksters and Fools 229
X. Human Stories 269
XI. Tales for Festivals and Holidays 315
Glossary 363
Bibliography 367
Story Title Index 379
Subject Index 395
Reviews for the 2nd Jewish Story Finder: "An indispensable tool for accessing the accumulated wit and wisdom of Jewish folklore….This second edition…is wider and broader and deeper and richer than ever." Michal Hoschander Malen, Jewish Book World  Fall 2013.   Click here  for the full review.
And from ARBA:
Reviews for the 1st Jewish Story Finder:      "A thoughtful, beautifully executed piece of work and a welcome addition to the field of Jewish children's literature…a handy reference tool…carefully-prepared guide" —AJL Newsletter
"The book that Jewish librarians, teachers, and storytellers have been waiting for has finally arrived, fulfilling almost all of our high expectations…marvelous source…highly recommended" —Jewish Book World
"A very useful source…suitable for multicultural programs… a good addition" -–American Reference Books Annual.
"This is truly a crossover resource. While it will find its main home in school, synagogue, and Jewish community center libraries and should be a resource for public library reader advisory services as well, this book should be included in seminary, undergraduate, and even graduate libraries. It is useful for library and information science collections in the latter where it should serve a myriad of purposes including as a reference work to support the curriculum of such programs as library and information studies."  —  Honorable Mention in Bibilography from The Research and Special Libraries Division of the Association of Jewish Libraries
Finding The Jewish Story Finder:                                                                            From McFarland & Company, Publishers:   http://www.mcfarlandpub.com/book-2.php?id=978-0-7864-4823-4
On Amazon: http://www.amazon.com/The-Jewish-Story-Finder-Subjects/dp/0786448237/ref=sr_1_5?ie=UTF8&qid=1344511703&sr=8-5&keywords=jewish+story+finder
 At Barnes & Noble: http://www.barnesandnoble.com/w/the-jewish-story-finder-sharon-barcan-elswit/1110945020?ean=9780786448234